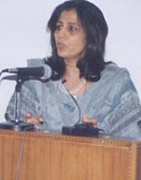 Dr. Nisheeta Agarwala
Dr. Nisheeta Agarwala-M.B.B.S.,M.C.P.S., D.O.M.S., M.S. (Ophthalmology) Bombay Fellowship in Ophthalmology The Johns Hopkins University,USA & Institute of Ophthalmology,UK Dr. Nisheeta Agarwala has been the Honorary Medical Director of the Eye Bank Co-ordination & Research Centre, since its inception in 1995. After completing her post- graduate degree in Ophthalmology at the K.E. M. Hospital,Mumbai, she proceeded to get a post doctorate fellowship from the Johns Hopkins Medical Institute and Wilmer Eye Hospital in the USA where she was trained in Cornea and External Diseases including Eye Banking. Later she was at the Institute of Ophthalmology in London, UK, where she was trained further in the same area of the eye.
On her return to India, she has been on the Consultant Faculty of the P.D. Hinduja National Hospital and Medical Research Centre, Department of Ophthalmology since 1986 and at Hinduja Healthcare Surgicals, Khar since 2011. Both these institutes support high quality eye care and deal with simple and complex diseases of the eye. The goal set by her in 1995 was to improve Eye Banking services and increase the availabilty of high quality corneal tissue in Mumbai, is a dream realised through Eye Bank Co-ordination and Research Centre (which she helped to set up.) Today, not only in her own practice, but in those of others involved in corneal transplant surgery, there has been a turn around in corneal transplant surgery and the lives of those blind due to corneal disease.