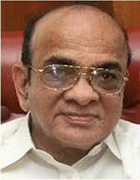 Mr. Jashwant B Mehta
Chairman, Advisory Board & Managing Trustee of Eye Bank Co-ordination & Research Centre.
An Architect & Civil Engineer by profession holding Master's Degree in Civil Engineering from the U.S.A. He is also active in real estate and hotel industry. Associated in the field of preventive and cure of blindness including eye donation and eye banking for over thirty-five years.
* Has played a pivotal role along with Dr. Nisheeta Agarwala in setting up Eye Bank Coordination and Research Centre, Mumbai, with active support from International Federation of Eye & Tissue Bank (IFETB).
* Founder Member of Eye Bank Association of India (EBAI) & also Member of Executive Committee. (992-2005) Held the various posts as Office Bearer:
a. Vice President / President elect (1995-1998)
b. President (1998-2001)
c. Ex-Officio (2001-2005)
---
1. He has presented papers on various topics on eye donation in several seminars & conferences including International Conference on ' Cornea and Eye Banking' held in Istanbul in July, 2000.
2. To propagate basic knowledge of eye donation & eye banking, authored a book "Eye Donation & Eye Banking in India." The book is being revised & updated from time to time & till now four editions have been published in English & Gujarati. Its Hindi version is also published in 2014. The Marathi version is due to be published shortly.
3. Has relentlessly pursued to bring about necessary legislative amendments in Human Organ Transplant Act (HOTA), passed in 1994 so as to procure required number of quality corneas to bridge the huge gap between demand & supply in India.. These include Presumed Consent Law which would permit removal of cornea from dead bodies covered under medico legal cases without any legal hassle & Required Request Law, making it mandatory for request for eye donation for any deaths taking place in hospitals and also include a consent column for eye donation in medical certification for cause of death in all cases and permitting trained technicians to enucleate corneas instead of the required of having registered medical practitioner to do so. The last two have now been included in amendments in HOTA made in 2011.
4. Apart from involvement with EBCRC, assisted in setting up eye banks elsewhere outside Mumbai including providing financial support and facilities for corneal transplants, they include
* ELMEX EYE BANK & SHRI BHAICHAND M MEHTA CORNEAL TRANSPLANT CENTRE at Kashiben Gordhandas Patel Children Hospital at Vadodara based on the same model of EBCRC in Mumbai in 1997.
* MUNI SANTBAL EYE BANK AND SMT. HARIBA MULCHAND MEHTA CORNEAL TRANSPLANT CENTRE at Dr. Thanki's Eye Hospital at Veraval, Saurashtra. This is the first eye bank in Junagadh District.
* Also assisted (including providing financial support) for starting BHAICHAND MEHTA OCULAR PROSTHETIC CENTRE at K.B.H. Bachooali Charitable Ophthalmic & E.N.T. Hospital, Near K.E.M Hospital, Parel. Mumbai & Tejas Eye Hospital (Divyajyoti Trust), Mandvi Dist., Surat.
* Honoured by the International Federation of Eye & Tissue Banks, Baltimore, U.S.A. in June 1994 for "selfless devotion to improving the future of the corneally blind in India" and also in May 2002 for "dedication to sight Restoration through Eye Banking.
* Supported during 1976-1990. Eye Hospital at Dholka (Gujarat) run by Indian Red Cross Society, Dholka Branch and Eye Donation movement initiated by Shri Gautam Mazumdar in Gujarat at Dholka & Ahmedabad under Indian Red Cross Society. Shri Gautam Mazumdar is considered among the pioneers of eye donation activity.
In his own field as a professional, he has contributed several papers and articles on Housing, Urbanization and other topics in professional journals and other publications. He has chaired sessions in the World Congress on Tall Buildings held at Paris (1979), Chicago (1985), Amsterdam (1995) and Mumbai (2010). Also presented papers on various topics in all these places. He has authored a book on high-rise Buildings' the first book on the subject in the country. He was member of the Executive Committee of Maharashtra Chamber of Housing Industry (MCHI) (1986-2007) and also on the Managing Committee of Practicing Engineers, Architects and Town Planners Association (PEATA) during 1983-1992.
Areas of other interest:
Like many other perceptive intellectuals in India, he has been disenchanted with the existing political system which has lead to ever increasing corruption, criminalization of politics, bad governance etc. owing to its inherent shortcomings as witnessed during the last more than six decades. This disenchantment has led him to undertake an in-depth study of the causes underlying the present political situation despite his belonging to a different professional fraternity. He has written extensively on the subject including books viz.,
1. Presidential System – A Better Alternative
2. Quest For A Better Democratic Alternative
3. Presidential Democracy – The Need Of The Hour
4. Electoral Reforms
These books have been widely acclaimed as marking a substantive contribution to the debate on the issue. Some of these books have also been translated in regional languages including Gujarati and Hindi. In addition to the above, he has also authored book titled "Vegetarianism – The Scientific & Spiritual Basis." The said book is also translated in Gujarati.