Registration Number : EBCRC-2059
(65 years, Female)
I am Extremely happy to have got my sight back after a lot of suffering. I can read now and will tell others to undergo Keratoplasty. I will also be part of the eye donation movement.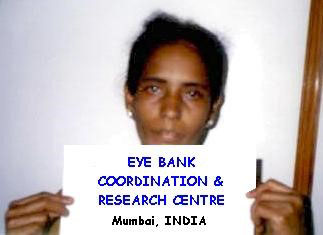 Registration Number : EBCRC-1699
(25 years, Female)
I have been suffering from corneal blindness for almost 5 years. This surgery has changed my life. I enjoy cooking and stiching now and I am Extremely happy to do so. I will accompany others who suffer from corneal blindness to hospitals and will support them till they undergo this operation and feel happy the way I do.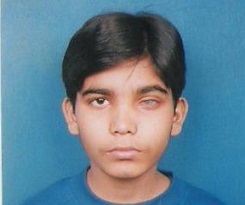 Ajit Sudarshan Gupta
Ajit was blind in the left eye since 1986. He received a cornea from EBCRC .After the operation he can see well and feels more confident of himself. He is thankful to GOD for giving him his vision back and is willing to create awareness about eye donation so that more corneal blind persons can get vision.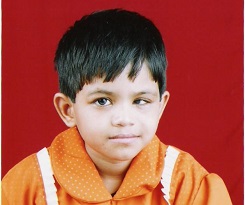 Seema Divakar (Age 3 years)
Seema Divakar , 3 years also received a processed cornea from EBCRC. This is what her father has to say Before her operation she was not able to see. After her operation, she can see and I am thankful to all mighty for making her see and giving her the gift of sight and she can be normal like any 3 year old.
Ajit Sahu
I developed Keratoconus, a major cornea problem, due to constant use of contact lenses for the last 15 years. I couldn't drive, couldn't bear bright light and even go out in the sun. I was asked to undergo Keratoplasty which involved implanting a donor's cornea. With EBCRC, I discovered it's a simple procedure, and after registration I got a cornea donor in no time. After Keratoplasty my vision is now back to normal. I request everybody to donate their eyes so that people who are in need can benefit from it.
Badamiben Bapna
My vision had reduced to nothing. I consulted a couple of eye doctors and came in touch with EBCRC. At the center, they asked me to go under an eye transplant surgery and I agreed. In a short time, I got an eye donor and underwent surgery. The surgery was successful and now I can see quite clearly. I'm so pleased and thankful for this surgery, I would urge everybody to donate their eyes and gift someone else the gift of vision.
Patient's Feedback Video – III
9 years ago, my eyes showed no signs of recovery even after consulting many doctors. Finally, a doctor asked me to register with EBCRC. On the 15th day after registration I got a new eye donor for one of my eyes. My family kept my hopes alive and after 14 days I got a donor for my other eye as well. Soon I underwent a surgery, which restored my vision completely. Today, I'm happy and satisfied. I think everyone who needs an eye transplant, should register with EBCRC.
DD Interview
Eye Bank Coordination and Research Center is a part of India's mission of promoting eye donation. Jashwant Mehta, the Chairman of EBCRC is the backbone of the organisation and has played a huge role in promoting eye donation on various levels. Mr. Mehta terms eye donation tougher than blood donation as it has to be done in just 4- 6 hours after the donor's death. With the Central Government's initiation, more and more people are pledging their eyes for donation. Today, with the advancement of science, EBCRC has come up with a technology that can store a cornea for 4 days. Closely affiliated to the center, Mrs. Varsha Ved who herself suffered from the eye blinding cornea condition, volunteers and counsels people to donate in various hospitals across Mumbai. EBCRC chairman, Mr. Mehta brought a major breakthrough in the country by urging the Central Government to pass a directive to add a column for eye donation consent in the death certificate itself. This has definitely helped create awareness. In 1994, with Dr. Nishita Agarwal, Mr. Jashwant Mehta formed the Eye Bank, which is now actively working through a lot of hospitals around Mumbai. EBCRC is linked to several eye banks across Mumbai and has recorded 10,000 eye transplants till date.